About Me
A loaded question and not one I often can define quickly. The thing is I don't love to be pigeon holed... and a friend recently agreed, "You are no pigeon".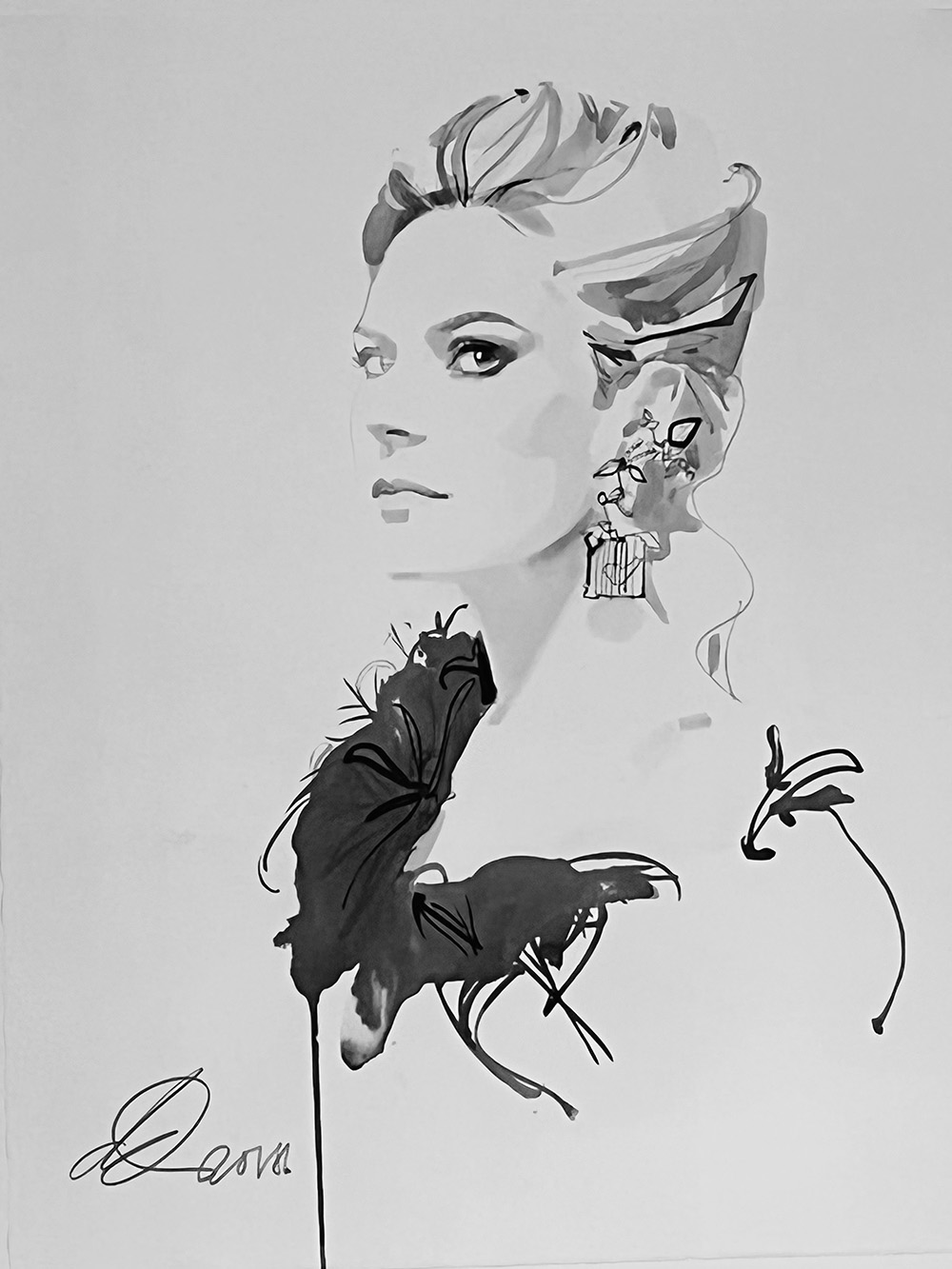 Belle Hahn
Drawing by: David Downtown
Photo by: Lily Hahn
That said here is an attempt:
I was born in New York City, almost in a taxi cab. And my mother and father met fighting over one. I grew up in Manhattan (with art history on my walls) across from Central Park. Nature was always my sacred refuge.
My sister, Lily, and I learned flower names, studying classical music and art as daily practices. We moved to Montecito when I was seven after my mother had a dream that we needed to move to Africa. Lotusland Garden became our neighbor, and Nature became our healer, as did Madame Ganna Walska, Lotusland creator and my muse. Later we moved to Augusta, Georgia, for a study in southern roots. This was where my mother grew up and where her mother was dying; Mimi instructed: ``Those girls need roots in clay, not shale: bring them home to the South."
Our parents divorced and an evolving education ensued: from Southern Exposure back to California dreaming and always keeping a New York state of mind (or heart). While there were many shifts from public and private schools, home schooling, and the further study of nature when we moved to Tryon, North Carolina among the horses and the land, Nature continued to be my salvation in an ever changing world of schools and visions.
Because of a series of traumatic occurrences in early childhood, healing became an essential part of my life. From art therapy at three years old, to many different modalities in the healing world (when it wasn't quite as "cool") my mother exposed me to acupuncture, cupping, talk therapy, colon therapy, dance therapy, all different types of movement, yoga, sound bathing, psychics, card readings, crystals, reiki, intuitive body work, massage, craniosacral and more. These were all deeply a part of my varying education process and something I could feel at home within our many moves and diverse schoolings.
I went from farm girl, happily mucking out stalls at the age of fourteen to Paris, where I was forever changed by the art of fashion and beauty, to an even higher frequency. My mother had always supported dress up as an art form, but when I came home from ten days in Paris with my father, I was forever changed. Fashion continues to be a beautiful means of self expression, and I have been called a "socialite" and "fashionista" much of my adult life. I struggle with these labels. I reframed "social light" in my mind to spreading light to the social.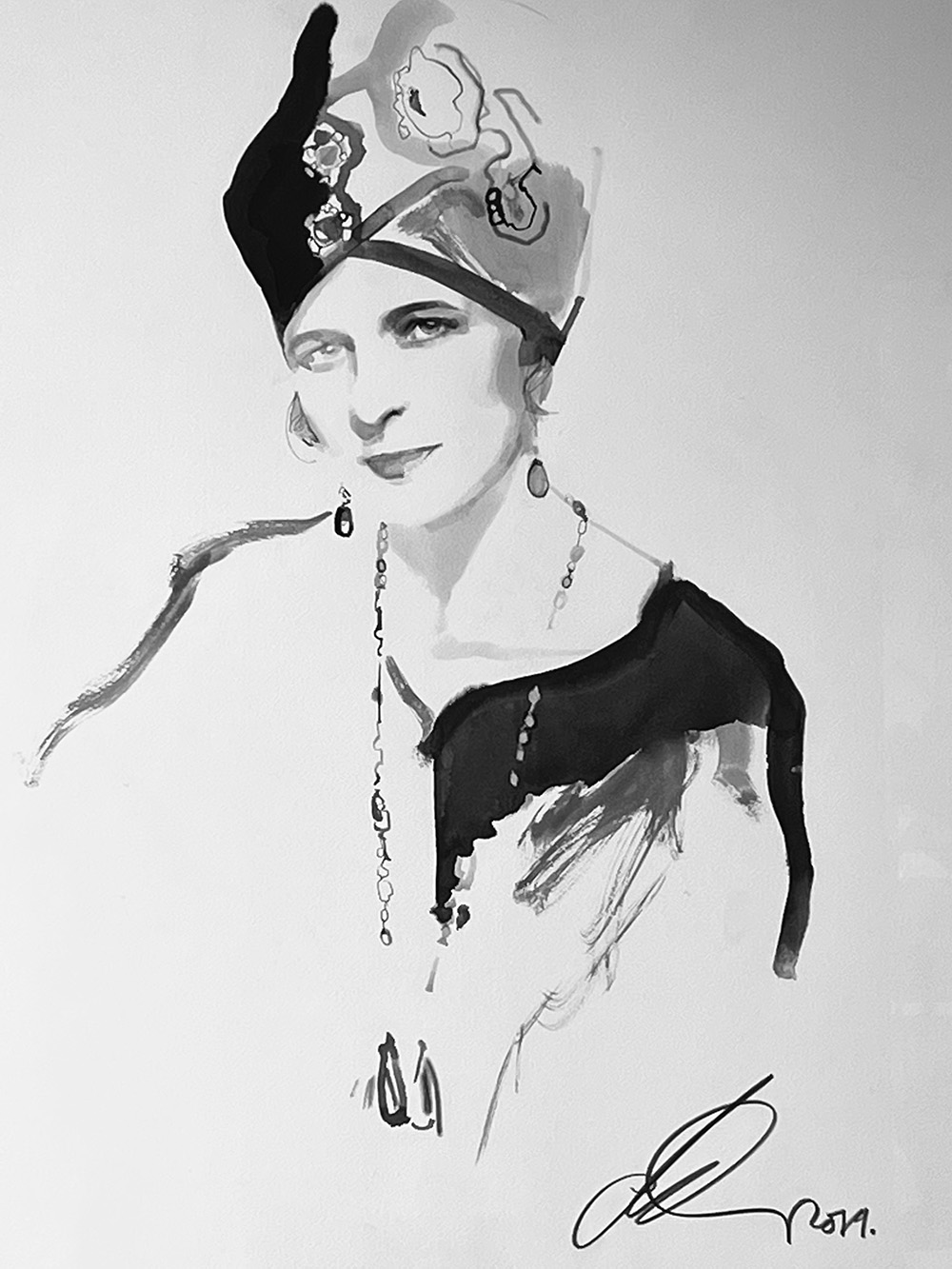 Madame Ganna Walska
Drawing by: David Downtown
Photo by: Lily Hahn
I went to Sarah Lawrence to "just learn" as this brilliant school did not require a major. I fell in love with the trees on campus and when I read "DisCover" on their pamphlet I was sold. I studied Acting, Child Psychology and Puppetry, to name a few, and then I finished school at UCSB, to be closer to my father, studying Feminism, while eight months pregnant with my first child.
I became an event planner because it included a lot of passions…the food, (I also went to cooking school,) the decor, the connection with people and business. I helped several philanthropic organizations and brides and then retired early to volunteer. Most of my time is dedicated to Lotusland, my childhood neighbor since I was six and a haven I am connected to in a way that feels like my heaven. I am committed to Madame Ganna Walska's vision for education in her gardens and her spiritual call to elevate this land for all inhabitants. My most recent title there is "Garden Ambassador." I am honored to serve Lotusland (six years on the board) and share my love for nature, art, and fashion through incredible partnerships we have co-created with Lotusland Celebrates, the gala each summer. These collaborations include Valentino, Etro, Verdura, Belperron, C magazine amongst many others; the lotus blossoms dance every July above the mud with this beautiful energy. I know Madame is smiling.
I am also a Mother of two sacred souls: my former husband and I co-raise them as consciously as we can. I learn the most from children, in my continuing attempt to stay present and break generational patterns.
I never liked being defined. I never liked being asked, "What do you want to be when you grow up?" I always felt that was so limiting and offensive because I already am, so ..why do I need to grow up to "be" something?"
I have many healers that I have encountered along my journey, from yoga teachers to photographers, and everything in between. They have mirrored back my own empowerment, and I am deeply grateful for these beings. I have had the awakening(s) I have had, not only because of my openness, but due to the immense support and exposure of this healing world.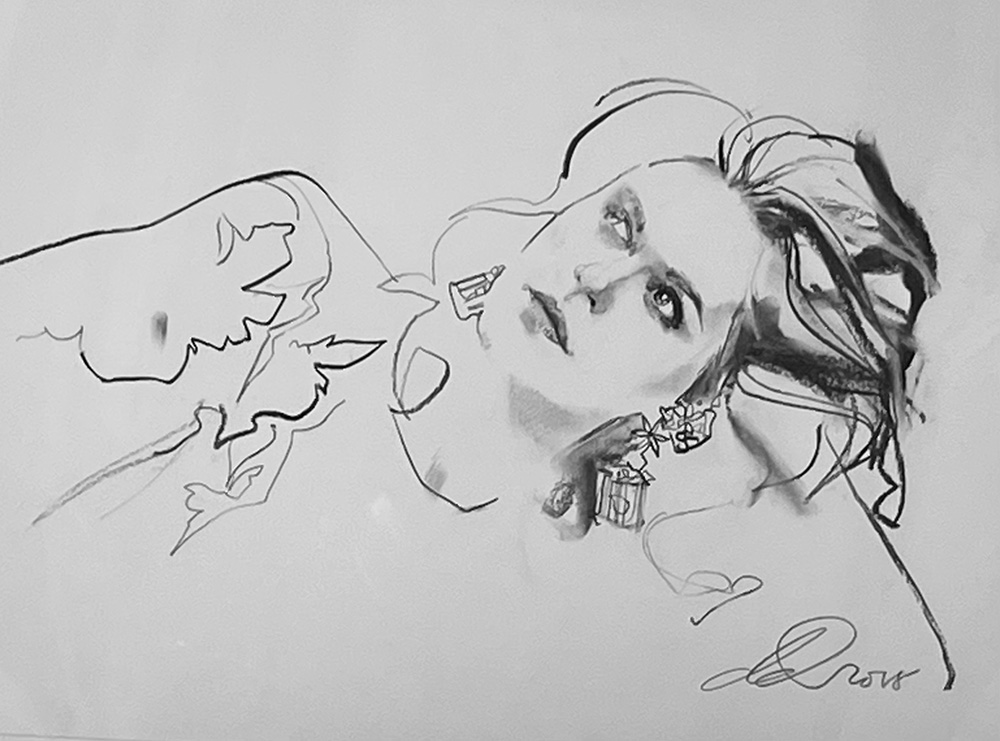 Belle Hahn
Drawing by: David Downtown
Photo by: Lily Hahn